Attention to detail is important in our everyday work and especially important in the renovation of a Ferrari Dealership Showroom, which is one of New England Construction's active projects. When one thinks of Ferrari they think fast cars and perfection and what else then would you expect to see in their Showroom? Nothing less than floating cloud light fixtures from France, opaque glass offices, Level 5 smooth walls coated in the whitest white and, the best part, Custom Niches in the Configuration Room. Imagine you walk in to the showroom to purchase your Ferrari, the walls are pure white, the tile floor is pure white and the Ferraris just pop in the space. You walk over to the Configuration Room where you can customize every detail of your Ferrari from picking out the color, what seat you want, the leather, steering wheels and more. Now ask yourself what it took to make this showroom look so great?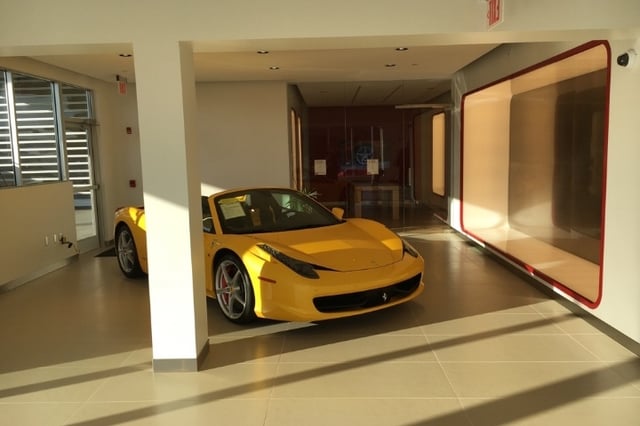 There are many factors in the proper execution of a "perfect" Auto dealer showroom. From my experience, here are the details that deserve the most attention to ensure a successful project:
Brand Direction. All Auto dealerships and brands have their characteristic requirements for their franchisees and it is important to make sure that those are being carried out in the proper fashion. All of these specifications and designs are what makes each brand unique. Ensuring the proper execution of the brand and dealers' visions is the ultimate measure of success on this type of project.
Articulate Documents. It is best to begin any project of this nature with a well detailed set of construction documents thanks to your architect (HFA | Allevato in this instance.) Having a good set of plans makes keeping an eye on the big picture and the minute details an achievable goal.
Daily Project Execution. The on-site superintendent is the key to the project's momentum and movement. It's the Superintendent's job to make sure each day that everything on site is in order and to hold subcontractors to the high standards required by the Auto brand and dealership owner.
Your team of Project Manager and Project Engineer (That's me!). Our role is to keep the communication channels open between all parties and to help the superintendent with everything he needs on the site. Another critical communication component here are our Subcontractor Meetings. By holding weekly meetings we ensure that our Subcontractors are working together and coordinating their efforts accordingly.
Work Environment. When working on such a detailed project, creating a pleasant work environment is also important. If the subcontractors are happy, the project team will also be happy and all will strive to put forward their best product, which in turn ensures you will have a very happy client. This can be achieved by anticipating the pain points in your scheduling and planning ahead to avoid disaster.
Solid Close Out. It is urgent to ensure that each phase of your project build support for the final close out. Architect renderings, brand & dealer expectations, and subcontractor performance are all facets to keep in mind as you build a comprehensive list of close out items. Close out lists should meticulously describe each task needed to provide an effortless handoff to your client.
Realizing that there truly are no details too small to warrant your full attention, be they related to materials or process, will help you clear the path to success when it comes to the updating and renovation of an auto dealership of any brand. This is the true reward of the process.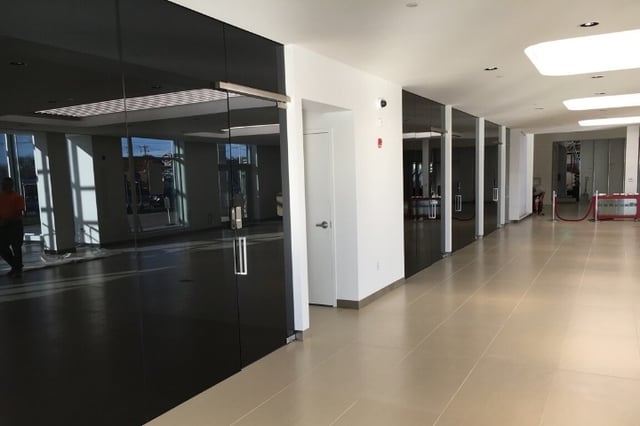 We have completed the Ferrari portion of the showroom at Ferrari of New England and are in full swing bringing the Maserati area to life. Projects of this nature move at a fast pace, much like a Ferrari on the open road. By paying attention to each of the items above we will be certain not to blink and miss any important details! By remaining focused on the fine points we achieve our project goals and those of our clients. The space we are creating is truly stunning and I hope you will get the chance to check it out!