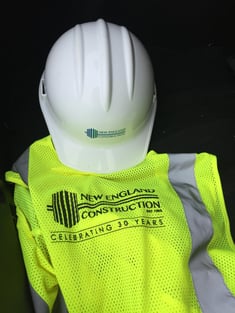 With the count at 3-2, this is bound to be the last pitch of the at-bat, unless a foul ball is hit. By now, I know exactly what pitch to throw to get the strikeout. I've learned a lot during this at bat, and am ready to finish it off. Back at NEC, I am getting ready to finish off my internship and head back to school. The summer has gone by extremely fast, and I feel like it was just yesterday I was a nervous first day intern walking into the office. A lot had happened since then, and I've learned a lot about this industry, being a part of a team, and myself. My internship this summer has been a very valuable experience and I've taken away a lot from it.
One of the best parts about this internship was how busy I was. Being busy may sound hectic and unenjoyable, but it was very important to my experience this summer. After getting the hang of this around the office and site, I found myself with a full schedule almost every day, working hard to get everything done in time. This really made me feel like I was a valuable part of this company. I wasn't someone who was there to just watch and learn, I was also there to contribute as much as I could. When I was in the office, it was almost as if I was a full time project engineer, using my time wisely to get everything I needed done. When I was out in the field, it was almost as if I was a full time superintendent, managing the project and reporting back to others on the progress. My work every single day mattered, and that's what I liked the most about this summer.
As much as this internship has been a working experience it has also been a learning one. My father works in the construction industry, but I saw things this summer that I had never seen before. I have a much better understanding of how a project comes together, and all of the work each trade puts into it. It was awesome to see which tasks are done in which order and how to build up a useful space from just an empty building or from the ground up. I had never seen all the detail that goes into these projects before, and never worked closely with a lot of these trades, so it was great to get a chance to do that. For example, I knew nothing about electrical or HVAC work coming into this internship, and wasn't sure if I could ever make sense of it. However, after working on site this summer, I am getting a good grasp on it and understand the fundamentals of the systems. There's still a lot to learn about them, but I've already learned much more than thought I could.

Not only have I learned and worked a lot this summer, but I have also become better at many important working abilities. I would say that this internship has enhanced my communication skills the most of everything. Before this summer, I was sometimes nervous in conversation and not the best with phone calls. In project management, communication is key. So this internship definitely put me to the test. I made more phone calls than I think Ive made in the past year and been around all kinds of people. By getting involved in conversation every single day, I have greatly improved in this area and am no longer nervous to do things like pick up the phone. It's crazy how work could make me change myself for the better in this way.

I'm ready to throw my sixth pitch of the at bat. I'm feeling a fastball high to get the batter swinging. I wind up, step down and fire in the pitch. Got him swinging. Strike three.

Keep up with the progress of NEC's summer internship program by subscribing below!