What do you get when you put 1100 Professional Women in a room at the 20th Annual Bryant University Women's Summit? 10 NEC women found out on Friday, March 17th. You get access to the free exchange of ideas. You get 3 keynote speakers, 2 breakout sessions and comments from the Governor. You redefine what leadership means for you and feel the energy you need to champion change and follow your passion. You get best practices. You get hacks and tips to elevate your own game or better yet create a NEW game. If you don't attend you're missing out and if you don't invest in your employees' attendance then your business is missing out.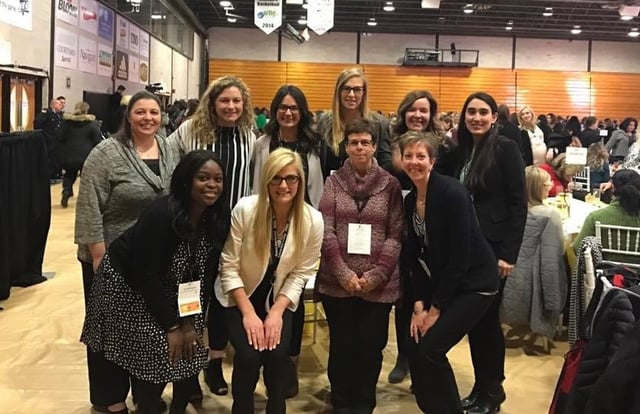 What YOU Missed:
Empowerment. Nobel Peace Prize winner Leymah Gbowee offered a new meaning to the power of women helping women. Practicing gratitude and humility is critical to leadership. Promoting peaceful change is paramount in life as a whole.
High Level Productivity. Today's world has moved past work/life balance and entered the world of work/life integration. How do you lead your life without it leading you? Camille Preston offered up the neuro-science behind "flow" (the business version of a runners' high). The science proves that you are 5x more productive and 7x more creative when operating in "flow." She also shared the formula to achieve flow more regularly!
Networking. Making connections and growing your network is directly correlated to opportunity. In addition to Actor Geena Davis, Governor Gina Raimondo and other public figure the diverse group of talented attendees included entrepreneurs, government officials, academics, military veterans, business and nonprofit leaders.
What your BUSINESS Missed:
Employee Engagement. By investing in employee training and development you are showing a clear commitment to your employees. Across the nation employee engagement is down around 32%. Investing in your employees has a direct impact on increasing employee engagement. Increased engagement drives increased productivity which ultimately increases profit margin.
Team Building. It's a powerful bonding experience for employees to spend time outside their comfort zone with other employees. Learning as a group strengthens working relationships and improves internal communication. Building an effective team is integral to business. Building trust to freely exchange ideas will help generate positive business process improvement.
Strategic Thinking. When employees run their desks like it is their own business they will take ownership of "the big picture" and see how their actions are tied to the company vision. When the mission and vision is clear the tactical objectives will naturally fill in and the long term goals become readily attainable.
Rhode Island Governor Gina Raimondo addressed the conference with these words - "It is up to all of us to create diverse work environments." Truth. Can you look yourself in the mirror and say you're doing your part? I can't help but wonder if NEC did not have diversity on the Leadership Team would this type of conference ever make its way onto the management radar? (For the record the NEC Men were 100% in support of the Women's Summit). I still have to ask the question - would this professional development opportunity have been lost if there weren't women in seats at the leadership table?