A new project just came in! As the Estimating Administrator at New England Construction, this sets my day in action. Each new project proposal requires proper attention to detail and generates a new set of deliverables for our department. It is my responsibility to ensure that every aspect & requirement of a project is reviewed prior to sending it out to the subcontractors for bidding. Each new venture comes with a new set of deadlines for our staff, therefore creating a strategy for gathering the necessary information and meeting those deadlines is vital.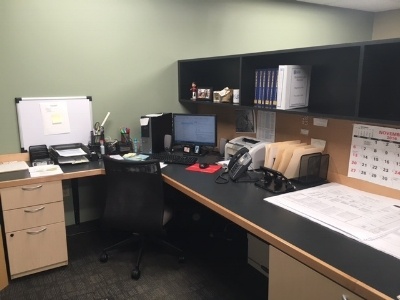 In order to obtain good pricing coverage from our subs on a project, one of my goals for sure, organization is crucial! Prioritizing is the first step to this. It is fairly easy to miss important tasks if you are not organized. Every day I arrange my responsibilities in order of urgency. What items will I need to address first? It's good to determine which things might affect the progress of other tasks, and plan to get to them as quickly as you can. A well prepared to-do list is very helpful to mark your accomplishments and identify duties that still need to be completed. I find that reviewing your progress throughout the day is important. It can help build confidence, relieve feelings of stress, and motivate you to finish strong.
Once we send out new projects to the subcontractors and things are moving, ensuring clear and detailed communication becomes one of my priorities. We confirm invitations to bid have been acknowledged and begin making calls directly to each subcontractor. This is no easy task as calls can range anywhere from 100 to 300 calls per day! We are in constant communication with the subcontractors, owners and architects leading up to the date the project is due. All questions from subcontractors must be answered in a timely manner so they can price accordingly and send in their quotes on time. On occasion, the response time from subcontractors, architects and owners is out of our control so we must continue to follow up throughout the day.
Constant communication is also key within our department. The Estimating Department has weekly meetings to ensure that everyone is up to date with all current project information; whether it is changed deadlines, scope of work, lack of coverage, upcoming meetings, etc. After the meeting, notes are recorded as a source of information for upper management, business development and the estimating team. I have to be alert and watch for changes that can impact the progress of all members of our departments. That list I mentioned above helps me make sure that I am not missing anything important.
Juggling all of these details and meeting the needs of our estimators and our subcontractors is clearly a huge task. Our success at proposing projects helps determine the success of our company as a whole. Here are a few tips to avoid folding under pressure in this kind of environment:
Take a break. Not doing so allows stress & tension to build up. Here, at NEC we have a gym where we can work out. If your facility does have one available to you, there are alternatives to letting out endorphins. Go for a walk, stretch, and breathe! (Here are some great at work exercises to check out!)
Stay fueled up and focused. Don't skip lunch though the temptation to do so is there. Healthy snacks and plenty of water can help you keep going even on your busiest day!
Don't carry the load alone! I may be the only Estimating Administrator in our office, but I know that I have a strong team supporting me in my endeavors. Turn to others when you need help figuring out the next step you need to take. They may not be doing the same work, but they can always listen and serve as a great sounding board.
Lastly, remember to be optimistic. New England Construction sadly does not win every project we have the opportunity to bid (though we have a great success rate and growing portfolio!). This can cause a vast amount of stress. Don't panic! Learn from each project proposal and always keep in mind that you will receive many other opportunities for bidding. By looking forward to the next challenge it is easier to see the excitement in the new projects that lay ahead instead of dwelling in your past.
By doing all of these things every day I ensure that I will leave the office at day's end certain that I have met the obligations of my current slate and ready to come back the next morning primed for new surprises. While certain tasks remain the same each day, like those phone calls, I never know what kind of projects and tasks might arrive. Will a hospital need renovating or is a new quick service restaurant entering our region? It is this variety that excites me and motivates our department to strive for success.
Whatever your day may bring, I hope you too can find a way to approach it in a way that is both well planned and motivated. Happy organizing!!