Getting Started!
From an employer's perspective, preparation is one of the most critical aspects to the success of a career fair. First, the HR person should brainstorm with their marketing department and leadership as to what the company envisions the career fair booth to look like. Some of the areas to discuss are collateral, use of technology, promotional giveaway items, signage, etc. It's important for all materials at the booth to be updated annually so they remain current! From the NEC perspective, some of the collateral and information that we provide at our career fair booth(s) are as follows:
NEC Flyer/Brochure – This flyer contains information and background on our company on the front and on the back, it provides information about the different positions we offer to the students. This flyer is updated annually.
Giveaways – The giveaways that we provide include pens, mints, koozies, and ping pong balls. All of these items have our logo on them.
Use of Technology – This is a new area we have added for 2017! Employees can scroll on the iPad and provide their contact information through a form on the iPad and they can also see our company culture video. We are really excited about this new feature! Check out our new Career Fairs page here.
Signage – We have a New England Construction table cloth with our logo across the front, which will allow students to easily notice our company
Additional Marketing Items – In addition to the items listed above, we have a New England Construction safety vest and hardhat for visuals. We also have a stand up informational table displays that have the available positions and brief descriptions of each position.
Attending the Career Fair
While attending the career fair it is important to be approachable and inviting to the students. As students are walking by, try to engage them in a conversation. When you have students that stop or specifically come to your booth, ask them for a copy of their resume. In addition, briefly review their resume and ask the student about 2-3 "mini" interview questions.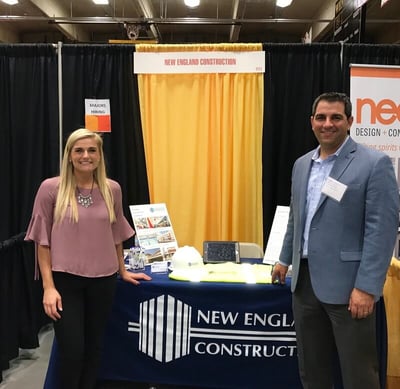 (Myself and our Vice President of Operations at a recent fair.)
After the student walks away, make a few notes on the resume and put into the file with other resumes. This is helpful for when you return to the office and review the resumes you've collected.
My Top Tips for Employers
Arrive early to get set up
Be approachable – Stand up and engage students as they are walking by
Don't forget your business cards!
Follow up with students after the career fair
Don't forget that your experience with a candidate at a career fair might just be the start of a long relationship for them at your company. First impressions matter and the better prepared you are to put forth your opportunities, the greater the reward will be in the end!